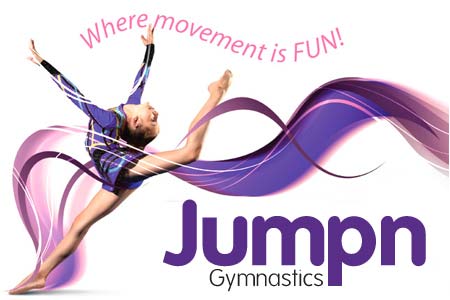 Jumpn Gymnastics is owned and operated by U.S. National Champion, All-American Gymnast and Hall of Fame recipient Sheila Ewer, who leads her outstanding team of professional coaches and staff.
Last year, Jumpn Gymnastics partnered with the AAU (Amateur Athletic Union) by becoming a member club, which allows for more opportunities for our recreational gymnasts and team athletes.  Our MAGA competition team meet schedule for the 2017-18 winter gymnastics season has concluded.  Congratulations to our athletes for putting forth their best efforts in our very first year of team competition.  We are very proud of them and of their accomplishments.
On March 25, 2018 at our very first championship meet, Jumpn Gymnastics-Jumpn Jewels Team Diamond athletes placed 8th overall in team competition at the MAGA Division 10 Championships hosted by New Prague Gymnastics Club, MN, with nearly 100 athletes competing from twelve teams.  Our own Kate H. won All-Around Gymnast in the Junior Age Level and placed 1st on the Floor Exercise with her personal best score of 8.0.  Other Team Diamond members also stepped to the podium with great scores in other events.  Meet results have been placed in the team section of our website, courtesy of Scoreflippers.com.  Thanks to our team parents for their support at this Championship Meet, and for their past year efforts in team activities and training.  We look forward to the new season and the exciting opportunities to train for the next championship.
Come into our gym and meet our professional staff.
At Jumpn Gymnastics, we focus on safely experiencing the FUN of gymnastics, by providing a positive learning environment for boys and girls to build self confidence and motor skills, with Saturday and Sunday classes currently geared for ages 3 and older during the school calendar year, and during the weekdays in summer (no weekend classes during summer at this time).  We also offer MAGA competition team and pre-team training for female athletes who desire to build advanced competitive skills and technique.  Ask to try out for our girls' Jumpn Jewels Competition Team, as membership in team is by invitation only!
A low student/teacher ratio of 8-10 students per instructor is implemented.
(763) 355-2815