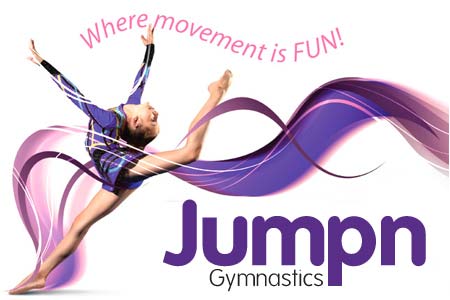 Jumpn Gymnastics is owned and operated by U.S. National Champion, All-American Gymnast and Hall of Fame recipient Sheila Ewer, who leads her outstanding team of professional coaches and staff.
In September 2017, Jumpn Gymnastics partnered with the AAU (Amateur Athletic Union) by becoming a member club, which allows for more opportunities for our recreational gymnasts and team athletes.  We have also finalized our upcoming M.A.G.A. competition team meet schedule for this winter's gymnastics season.  Come into our gym and meet our professional staff.  They are U.S. National Champion and All-American Gymnast Nan Johnson Alden, and Team Head Coach/Spotter, Terry Nordquist!
At Jumpn Gymnastics, we focus on safely experiencing the FUN of gymnastics, by providing a positive learning environment for boys and girls to build self confidence and motor skills.  Our Zimmerman location is currently geared for ages 3 and older with Sunday classes during the school calendar year, and during the week in summer.  Our Princeton location is currently geared for ages 3 and older with classes during the summer and winter months only.  We also offer M.A.G.A. competition team and pre-team training for those female athletes who desire to build advanced competitive skills and technique.  Ask to try out for our girls' Jumpn Jewels Competition Team, as membership in team is by invitation only!
A low student/teacher ratio of 8-10 students per instructor is implemented.
(763) 355-2815